SITEMAP
ROMANCE TOURS
INTERNATIONAL DATING
ABOUT RUSSIAN WOMEN
SCAM LIST
HOW AVOID FRAUD
RUSSIAN TRAVEL
DATING ADVICE
DATING SERVICES
SINGLES CRUISES
LANGUAGE COURSES
LEARN RUSSIAN
ABOUT RUSSIA
OUR SERVICES
ABOUT ME
CONTACT ME
Pearls of Russia
Cultural heritage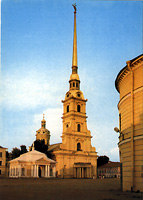 The Peter and Paul Fortress

The oldest building of St. Petersburg!
When Peter the Great re-conquered the lands along the Neva River in 1703, he decided to build a fort to protect the area from possible attack by the Swedish army and navy. The fortress was founded on a small island in the Neva delta on May 27, 1703 (May 16 according to the old calendar) and that day became the birthday of the city of St Petersburg. The Swedes were defeated before the fortress was even completed. For that reason, from 1721 the fortress housed part of the city's garrison and rather notoriously served as a high security political jail. Among the first inmates was Peter's own rebellious son Alexei. Later, the list of famous residents included Dostoyevsky, Gorkiy, Trotsky and Lenin's older brother, Alexander. Parts of the former jail are now open to the public...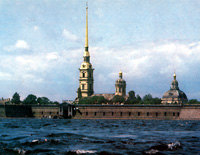 In the middle of the fortress there is the Peter and Paul Cathedral, a church where all the Russian Emperors and Empresses from Peter the Great to Alexander III are buried. The Cathedral was the first church in the city to be built of stone (in 1712-33). The design of the cathedral is most unusual for a Russian Orthodox church (come over to St Petersburg and you will learn why).

On top of the gilded spire is an angel holding a cross. This weather-vane is one of the most prominent symbols of St Petersburg. At 404 feet the cathedral is the highest building in the city.

Other buildings in the fortress house the City History Museum and the Mint, one of the two places in Russia where coins and medals are minted.

Location: Zayachii ostrov (island), St.-Petersburg
All building are closed on Tuesdays.
An admission fee is charged for the cathedral and the museum