Pearls of Russia
Museums and memorial estates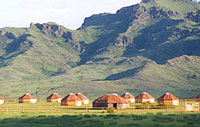 The Great Sayan Ring

We are pleased to welcome everyone who would like to discover the new Siberia to join us on The Great Sayan Ring. During this journey you will discover three different exotic ethnic cultures with a rich historical and archeological heritage: Russia, Tyva and Khakassia. You will experience the atmosphere of their ancient times, and feel the pace of time not only through historical monuments, but also through the beauty of nature. "The Great Sayan Ring" is not "The Lord of the Rings"!
The Great Sayan Ring is ecologically pure, abundant in mountain rivers, lakes, dense taiga forests and steppes. This land belongs to peoples that are holding on to their traditional way of life, preserving their legends and the sacred beliefs of their ancestors.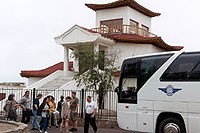 Such a great variety of cultures and landscapes as can be witnessed during this tour would be difficult to find anywhere else. Exotic and, at the same time, extremely comfortable accommodations in yurta camps in Tyva and Khakassia means guests will feel closer to the local cultures and their traditional life.

The Great Sayan Ring Tour is an "all-inclusive" trip and meets all international requirements of strict safety standards, accommodation and high quality of food, a first-class restaurant will serve you en route.
You have nothing to worry about, we will solve all troubles, and all you need is simply to relax and get ready to new and unforgettable impressions!