SITEMAP
ROMANCE TOURS
INTERNATIONAL DATING
ABOUT RUSSIAN WOMEN
SCAM LIST
HOW AVOID FRAUD
RUSSIAN TRAVEL
DATING ADVICE
DATING SERVICES
SINGLES CRUISES
LANGUAGE COURSES
LEARN RUSSIAN
ABOUT RUSSIA
OUR SERVICES
ABOUT ME
CONTACT ME
Pearls of Russia
Museums and memorial estates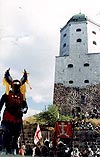 The Vyborg Castle Museum

Vyborg belongs to the oldest towns of Russia. In 1993 locals and guests of the town celebrated its 700th anniversary. Its long history was stormy and changeable - the town survived through different epochs, witnessed many rulers, pertained to several countries. It was a true cross-cultural point of the Karelian, Swedish, Finnish, Russian traditions and all of them can be traced in the town shape and history just as in numerous artifacts and documents stored in the Museum of Vyborg History.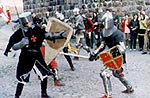 The museum is located in the Vyborg Castle - the only castle in Russia designed in the European tradition. The six permanent exhibits of the museum cover different periods in the town and castle history and, also, feature the Karelian Isthmus nature and activities of both Russian and Finnish frontier guard and customs services. Up to 40 rotating exhibits from other museums are brought here every year.

The castle houses business meetings, conferences and public readings. The All-Russia Conference on Safety of Museums, Archives and Libraries held in 1998 could be mentioned among them.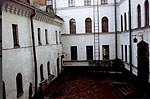 The unique scenery of the Castle provides the museum with an exceptional opportunity in housing various concerts, folk festivals and outdoor fetes. The May Tree medieval holiday invites musical theatres and dance groups. Another traditional event - The Knights' Tournament - attracts crowds of spectators. The Castle is home to the jazz festival "Vyborg Castle Serenades". Ethnographic Days of National Cultures are also arranged here.