Pearls of Russia
Museums and memorial estates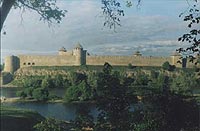 Historic and Art Museum Ivangorod Fortress

The Historic and Art Museum Ivangorod Fortress incorporates the Ivangorod Art Museum exhibits and the Ivangorod Fortress as such.

The Art Museum centers around the envaluable donation of Mikhail Pototsky, son of the renowned artist Aleksandra Shchekatikhina-Pototskaya, a pupil of Ivan Bilibin. The Pototsky collection includes marvellous pieces by Bilibin, Shchekatikhina-Pototskaya and other painters belonging to the art group "World of Art". Besides creating individual art, the members of the group that started as a circle of friends, mostly artists, at the turn of the 19th to the 20th century initiated innovative cultural projects not only in fine arts but stage and decorative art, publishing and book illustration. Their contribution to rousing the public interest in the history of Russian art and to popularizing Russian culture abroad (through famous Dyagilev's Russian Seasons) is tremendous.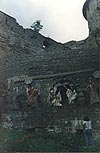 The Ivangorod Art Museum collections are exhibited in the former private house of a local merchant and also include artifacts and archival materials documenting the history and traditional culture of the region, personalia and letters of famous Russians like Fiodor Dostoevsky, examples of folk art.

Another exhibit of the museum is located in a separate building that served an office for another local trader - Orlov - in the mid 19th century and is devoted to the historical roles of the fortresses located in Leningrad region displaying objects of archeological digs and remarkable models of strongholds.

The Ivangorod Fortress is a special place to visit. The strategic position of the fortress not far from the Baltic coast often made it a battlefield of the Russians and Swedes. Walking along the old walls and towers, a visitor can have a taste of 400 years' history of the place. Russian screen version of Shakespeare's "Hamlet" directed by Grigory Kozintsev was shot here.

Address:
1/6 Kingiseppskoye Shosse, Ivangorod, Leningrad region; phone (275) 517 92