SITEMAP
ROMANCE TOURS
INTERNATIONAL DATING
ABOUT RUSSIAN WOMEN
SCAM LIST
HOW AVOID FRAUD
RUSSIAN TRAVEL
DATING ADVICE
DATING SERVICES
SINGLES CRUISES
LANGUAGE COURSES
LEARN RUSSIAN
ABOUT RUSSIA
OUR SERVICES
ABOUT ME
CONTACT ME
Pearls of Russia
Museums and memorial estates
Luga Museum of Local History and Tradition

Initiated in 1976 in preparations for celebrating the bicentenary of the town of Luga, the museum has gradually expanded and become a cultural center of the town.

It provides an overview of the history of the town retaining its name since the reign of Catherine II but started as a Novgorodian settlement in the 11th century and officially mentioned for the first time in the chronicles of 1383. The innumerous archeological digs, documents, ethnographic artifacts depict this period, adding more about later events. Special attention is devoted to the periods of World War I when Luga happened to become a large rare reserve center for the Russian North-Western Front, and of World War II when cruel combats took place here, on the avenue of approach to Leningrad.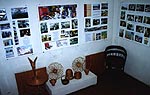 A separate exhibit is dedicated to the outstanding people being connected with the region like a writer Ivan Turgenev or artists Ivan Shishkin, Ivan Kramskoi et al.

Household stuff, domestic utensils and ladies' garments of the last century are of interest in the ethnographic part of the museum collection.

Geology, animal and plant life of the region are also well represented in the display.

The exhibition hall of the museum often invites its visitors to see rotating shows of local artists and craftsmen.

Address:
11a Krasnoi Artillerii St., Luga, Leningrad region; phone (272) 236 41

Open hours:
11 a.m. to 5p.m. Closed Mondays