SITEMAP
ROMANCE TOURS
INTERNATIONAL DATING
ABOUT RUSSIAN WOMEN
SCAM LIST
HOW AVOID FRAUD
RUSSIAN TRAVEL
DATING ADVICE
DATING SERVICES
SINGLES CRUISES
LANGUAGE COURSES
LEARN RUSSIAN
ABOUT RUSSIA
OUR SERVICES
ABOUT ME
CONTACT ME
Poltava apartment for rent.
Poltava 1 Apartment
This apartment is available ONLY to Euro Club clients.
Please click here for information on the Euro Club.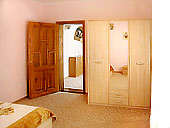 Remolded 2 room apartment in the city center on the main boulevard. Kitchen features include fridge, microwave, stove, electronic kettle. Living room & bedroom areas are carpeted with modern furnishing and TV ( with satellite English speaking programs). Bedroom has a double bed. Fully tiled bathroom with shower.
Apartments for Rent
Russian Apartments for Rent Colombian Apartments for Rent
Ukraine Apartments for Rent
[ List of Cities ] [ Info about Kiev ] [ Hotels in Kiev ] [ Location on Map ]

Russian Bride Guide


Contact Us



THIS PROGRAM IS THE SOLE PROPERTY OF RUSSIAN BRIDE GUIDE AND MAY NOT BE COPIED IN ANY WAY OR FORM WITHOUT EXPRESS PERMISSION FROM RUSSIAN BRIDE GUIDE.

© COPYRIGHT 1996-2018 - ALL RIGHTS RESERVED.