Chita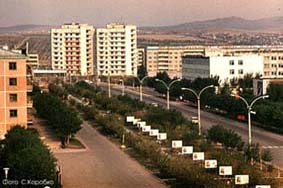 Chita is the centre of Chitinskaya oblast. It is situated in Transbaikalia at the confluence of the river Chita and Ingoda. The city is situated at the distance of 6074 km to the east from Moscow. The population is 376,5 thousand people. It is a large highway junction and a railway station (Chita II) on the Trans-Siberian railway. Besides here is an airport in Chita. History.
In 1653 a team of the Russian explorer Peter Beketov founded their winter quarters at the confluence of the Chita and Ingoda. Before 1851 Chita was a small village with two or three dozens of rural houses and served as a place for exile.
In 1851 here was formed Zabaikalskaya oblast and Chita became a city. Simultaniously with this the Transbaikalian Cossack army was formed here.
The Mikhailo-Arkhangelskaya Church (Church of Decembrists) built in 1771 reminds of stay of decembrists in Chita.
The industry.
The Chita mechanicians produce one of the best production in the CIS.
Such enterprises as "Mashzavod" PLC, "Machine-tool plant" JSC, "KamAZ-Dauriya" JSC, "Plant of mining equipment" PLC are the leaders among regional enterprises.
The 1st and 2nd heat stations provide the city with power and heat.

Education.

The Chita State Pedagogical University was the first higher educational institution in Transbaikalia.

The Chita State Technical University functions as an independent educational institution since 1974.

The Chita State Medical Academy prepares 2250 students, interns and post-graduate students.

The Chita Institute of Irkutsk State Economic Academy is engaged in training of experts able to work in the market and using modern information technologies.

There is also the Transbaikalian Institute of Business of the Siberian University of Consumers' Cooperation.

Mass media.

The mass media are represented in Chita by a number of periodical advertising editions, commercial bulletins, weekly journals, political editions, alternative and state TV and broadcasting stations.

Culture and art.

The Chita establishments of culture are the Drama and Puppet theatres, the Philarmonic society, the Museum of local lore, the Art museum, the Museum of Decembrists, etc.
CITIES OF RUSSIA

Abakan I Aginskoye I Anadyr I Arkhangelsk I Astrakhan I Barnaul I Belgorod I Birobidzhan I Blagoveshensk I Bryansk I Cheboksary I Chelyabinsk I Cherkessk I Chita I Ekaterinburg I Elista I Gorno-Altaisk I Groznyi I Ioshkar-Ola I Irkutsk I Ivanovo I Izhevsk I Kaliningrad I Kaluga I Kazan I Kemerovo I Khabarovsk I Khanty-Mansiysk I Kirov I Kostroma I Krasnodar I Krasnoyarsk I Kudymkar I Kurgan I Kursk I Kyzyl I Lipetsk I Magadan I Maikop I Makhachkala I Moscow I Murmansk I Nalchik I Naryan-Mar I Nizhny Novgorod I Norilsk I Novgorod the Great I Novosibirsk I Omsk I Orenburg I Oryol I Penza I Perm I Petropavlovsk-Kamchatsky I Petrozavodsk I Pskov I Rostov the Great I Ryazan I Saint-Petersburg I Salekhard I Samara I Saransk I Saratov I Smolensk I Stavropol I Syktyvkar I Tambov I Tomsk I Tula I Tver I Tyumen I Ufa I Ulan-Ude I Ulyanovsk I Vladikavkaz I Vladimir I Vladivostok I Volgograd I Vologda I Voronezh I Yakutsk I Yaroslavl I Yuzhno-Sakhalinsk I