Ivanovo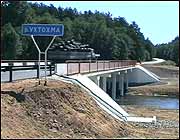 Ivanovo city (1991 pop. 540,000), capital of Ivanovo region, central European Russia, in the Moscow industrial region. A great Russian textile centre, the city was the historic centre of Russia's cotton-milling industry. From the 1880s it was a centre of labor unrest. During the revolution of 1905, 60,000 workers went on strike and formed one of the first soviets of workers' representatives. After six weeks the strike was crushed. The city was called Ivano-Voznesensk until 1932.
Till now Ivanovo is the city of hundred enterprises: the second place on the importance, alongside with textile branch, occupies mechanical engineering.
However, despite of all historical peripetias, today Ivanovo is the large administrative, industrial and cultural centre, with the population about 700 thousand persons.
Ivanovo is a city with rich theatrical traditions.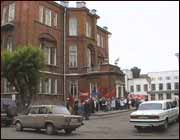 But coming to unfamiliar city first of all you think not of its sights, but about where it is possible to stop and have a rest from road. In city there are four large hotels: "Central", "Russia", "Tourist", "Ivanovo".
CITIES OF RUSSIA

Abakan I Aginskoye I Anadyr I Arkhangelsk I Astrakhan I Barnaul I Belgorod I Birobidzhan I Blagoveshensk I Bryansk I Cheboksary I Chelyabinsk I Cherkessk I Chita I Ekaterinburg I Elista I Gorno-Altaisk I Groznyi I Ioshkar-Ola I Irkutsk I Ivanovo I Izhevsk I Kaliningrad I Kaluga I Kazan I Kemerovo I Khabarovsk I Khanty-Mansiysk I Kirov I Kostroma I Krasnodar I Krasnoyarsk I Kudymkar I Kurgan I Kursk I Kyzyl I Lipetsk I Magadan I Maikop I Makhachkala I Moscow I Murmansk I Nalchik I Naryan-Mar I Nizhny Novgorod I Norilsk I Novgorod the Great I Novosibirsk I Omsk I Orenburg I Oryol I Penza I Perm I Petropavlovsk-Kamchatsky I Petrozavodsk I Pskov I Rostov the Great I Ryazan I Saint-Petersburg I Salekhard I Samara I Saransk I Saratov I Smolensk I Stavropol I Syktyvkar I Tambov I Tomsk I Tula I Tver I Tyumen I Ufa I Ulan-Ude I Ulyanovsk I Vladikavkaz I Vladimir I Vladivostok I Volgograd I Vologda I Voronezh I Yakutsk I Yaroslavl I Yuzhno-Sakhalinsk I