Kursk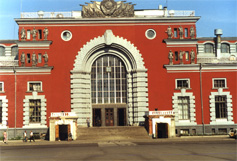 Kursk is the oldest Russian city first pertaining to Kievan Russia, and then to Moscovy. The city and its warriors are praised in the ancient Russian legend "The Word of Igor's regiment". Kursk, the centre of Kurskaya oblast, is situated on the Middle Russian height, on the banks of the river Seim and its tributary Tuskar 536 kms southwards from Moscow.
The climate is moderate continental. Average temperatures of January -8, of July +19 degrees centigrade. Precipitations are about 500 mm a year. It is the railway unit Moscow - Kharkov and Kiev - Voronezh. There are the automobile highway (Moscow - Simferopol) and the airport. The population - 435,2 thousand inhabitants (1992).
First people appeared in the territory of Kurskaya oblast more than 100,000 years ago, and the city itself is about 1000 years old. In the end of 10th century Kursk became one of the political, trading, cultural and religious centres of Kievan Russia. In 1708 Peter I developed new territorial division of Russia into provinces. In May 23, 1779 Catherine signed the decree about establishment of Kursk province consisting of 15 districts. The province existed up to the Soviet period and instead of it 2 oblasts were established, Belgorodskaya and Kurskaya ones.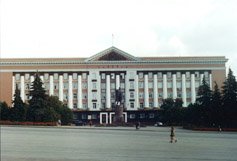 In modern Kursk the leading industries are as follows: machine-building and metal working, chemical ("Khimvolokno" Production association; general mechanical rubber goods plants, rubber and plastic products plant, chemical and pharmaceutical plant), light industry (shoe, knitting, sewing factories), food industry; manufacture of building materials. There is the thermal power station. Kursk is the centre of agricultural area.
Institutes: the Kursk State Technical University, Kursk State Pedagogical University, Kursk Medical University and the Kursk Agricultural Academy; branch of the Correspondence Financial and Economic Institute. the Scientific and Research Institute for Soil Protection against Erosion; lots of secondary schools and kindergartens. Stadiums, sport complexes, the Drama Theatre named after A.S.Pushkin, Philarmonic society, Theatre of Young Spectator "Rovesnik", the Puppet theatre, the circus, the Museum of local lore, the Picture gallery named after A.A.Deineki, the Military and Historical Museum of the Kursk battle.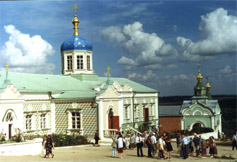 The city of Kursk has several twin cities. They are Witten, Speyer (Germany), Uzhice (Yugoslavia), Veszprem (Hungary), Sumy (Ukraine), Tchev (Poland). Public associations "Circle of friends Kursk - Witten", "Circle of friends Kursk - Speyer", "Kanu Klub".
CITIES OF RUSSIA

Abakan I Aginskoye I Anadyr I Arkhangelsk I Astrakhan I Barnaul I Belgorod I Birobidzhan I Blagoveshensk I Bryansk I Cheboksary I Chelyabinsk I Cherkessk I Chita I Ekaterinburg I Elista I Gorno-Altaisk I Groznyi I Ioshkar-Ola I Irkutsk I Ivanovo I Izhevsk I Kaliningrad I Kaluga I Kazan I Kemerovo I Khabarovsk I Khanty-Mansiysk I Kirov I Kostroma I Krasnodar I Krasnoyarsk I Kudymkar I Kurgan I Kursk I Kyzyl I Lipetsk I Magadan I Maikop I Makhachkala I Moscow I Murmansk I Nalchik I Naryan-Mar I Nizhny Novgorod I Norilsk I Novgorod the Great I Novosibirsk I Omsk I Orenburg I Oryol I Penza I Perm I Petropavlovsk-Kamchatsky I Petrozavodsk I Pskov I Rostov the Great I Ryazan I Saint-Petersburg I Salekhard I Samara I Saransk I Saratov I Smolensk I Stavropol I Syktyvkar I Tambov I Tomsk I Tula I Tver I Tyumen I Ufa I Ulan-Ude I Ulyanovsk I Vladikavkaz I Vladimir I Vladivostok I Volgograd I Vologda I Voronezh I Yakutsk I Yaroslavl I Yuzhno-Sakhalinsk I