Bryansk

Bryansk is located in a central part East-European plain, on watershed of Dnepr and Volga river systems.
Bryansk city is 379 km South-East from Moscow.
The region borders with two Republics (Independent States) and with four other regions of Russia: Gomel and Mogilev regions of the Republic of Belarus (West), Chernigov and Sumi regions of Ukraine (South), Kaluga and Smolensk regions of Russia (North) and Oryol and Kursk regions of Russia (East and South-East).
The official symbols of the Bryansk region are Flag, Coat of Arms and Hymn, determined by Regional Law "About the Symbols of the Bryansk Region", passed in 1998.
The Coat of Arms of the Bryansk region symbolizes the unity of the three great Slavonic nations. It reflects a couple of the traditional spiritual values of people in the Bryansk region; in particular, the battle glory, industrial mastery, arable farming. The Historical Coat of Arms of the Bryansk city is the organic part of the Coat of Arms of the Bryansk region.
The Flag of the Bryansk region is the red banner (red colour is the colour of the flags of the Bryansk Resistance in a time of WWll and the colour of the Soviet Army, liberated the Bryansk region in 1943). There is the Coat of Arms of the Bryansk region painted on the Flag of the Bryansk Region.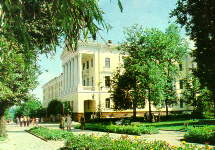 The Anthem of the Bryansk region is the song "Bryansk forest" by S. Katz and A.Sofronov. This song was the hymn of the Resistance of the Bryansk Region in a time of the Second Word War, and in the post-war time it was a real symbol of the Bryansk Land.
Climate is temperate continental. Winter is relatively tender and snowy, summer is warm. The average temperature in January is from 7 to 9 degrees centigrade below zero, in July is from 18 to 19 degrees centigrade. Average atmospheric precipitations from 560 to 600 mm. per year.
Rivers and lakes. There are 125 rivers in Bryansk region for a total length 9000 km. The rivers in the Bryansk region are belong to Dnepr river basin. The longest river is Desna, inflow of the Dnepr river, source is near Nalety village (Smolensk region), flows into Dnepr river 6 km from Kiev, Ukraine, 1187 km. length. The main inflows of Desna in the region are Bolva, Navlya, Nerussa, Sudost, flows into Desna inside the boundaries of region.
Besed and Iput rivers are inflows of the Sozh river, flows on the West of the Bryansk region. There are 49 large lakes in the region, the largest is Kozhany lake (450 hectares area).
Minerals, etc.. Peat; sands, clay, chalk for glass industry, for portlandcement industry and for various construction materials. Phosphates for fertilizer.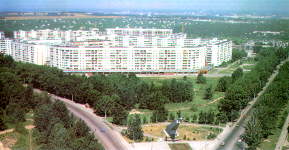 Forests. Bryansk region is located in a zone of forests, only the South-East of region is in the zone of the forest-steppes. Total area of the forests is near one million hectares. The largest forests located along the left bank of the Desna river, and the forests along Sudost and Iput rivers are not so large.

The pine forests (42% of total area of the forests in the region) are most important for the timber industry. 23% of total area of the forests are birch, and 15% are aspen forests.

Oak, alder,ash, maple, lime, etc. are also widespread trees in Bryansk region. The total resources of wood are near 100 millions of cubic meters. The "Bryansk forest" reserve has total area 12 thousands hectares. In a future the National Park "Pridesnyansky" will be founded on territory of four districts (Bryansk, Havlya, Vigonichy, Trubchevsk districts), with total area more than 100 thousands hectares.

More about geographic situation, climate, rivers, minerals, forests, etc. in the Bryansk region will be on "Geography" site (in Russian).

Industry. In pre-crisis time the industry of the Bryansk region was highly developed. The most important branches are engineering industry, elecrtonic industry, chemical industry, timber industry, paper production, textile industry, clothes and shoes production, constrution materials production.

Agriculture. The part of agriculture in gross output of the region is 20%. The main products are grain, potatoes, vegetables, meat and milk products. The natural and climatic conditions make possible to grow rye, wheat, barley, oats and buckwheat. The part of potato growing is 24% in gross output of regiomal agriculture. They are also growing flax, hemp and sugar-beet.
CITIES OF RUSSIA

Abakan I Aginskoye I Anadyr I Arkhangelsk I Astrakhan I Barnaul I Belgorod I Birobidzhan I Blagoveshensk I Bryansk I Cheboksary I Chelyabinsk I Cherkessk I Chita I Ekaterinburg I Elista I Gorno-Altaisk I Groznyi I Ioshkar-Ola I Irkutsk I Ivanovo I Izhevsk I Kaliningrad I Kaluga I Kazan I Kemerovo I Khabarovsk I Khanty-Mansiysk I Kirov I Kostroma I Krasnodar I Krasnoyarsk I Kudymkar I Kurgan I Kursk I Kyzyl I Lipetsk I Magadan I Maikop I Makhachkala I Moscow I Murmansk I Nalchik I Naryan-Mar I Nizhny Novgorod I Norilsk I Novgorod the Great I Novosibirsk I Omsk I Orenburg I Oryol I Penza I Perm I Petropavlovsk-Kamchatsky I Petrozavodsk I Pskov I Rostov the Great I Ryazan I Saint-Petersburg I Salekhard I Samara I Saransk I Saratov I Smolensk I Stavropol I Syktyvkar I Tambov I Tomsk I Tula I Tver I Tyumen I Ufa I Ulan-Ude I Ulyanovsk I Vladikavkaz I Vladimir I Vladivostok I Volgograd I Vologda I Voronezh I Yakutsk I Yaroslavl I Yuzhno-Sakhalinsk I