Magadan
Magadan is an administrative centre of Magadanskaya oblast, one of the most remote (7110 km) from the capital of Russia and the youngest regional centre of the Far East. It is situated on shore of the Tauiskaya bay in the northern part of the Sea of Okhotsk, on the isthmus connecting the Peninsula of Staritsky with the continent. The river of Magadanka divides the city into two parts that include the basic inhabited micro-districts.
Today Magadan is the economic, scientific and cultural centre of the region. The total area of the whole city territory makes about 30 thousand hectares, though actually Magadan occupies 18 thousand hectares.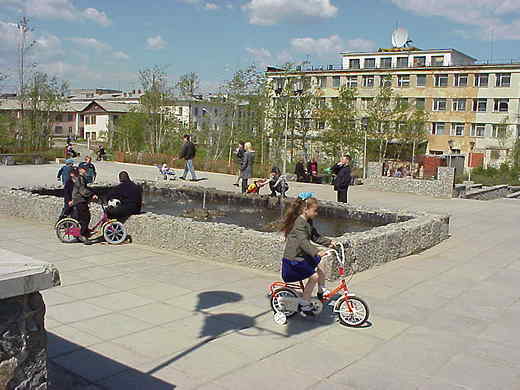 The city totals several thousand capital buildings, more than 140 streets and lanes with length of 170 km. Housing stock makes up 2,5 million sq. meters. The population is more than 128,8 thousand inhabitants.
In Magadan there are 5995 state and municipal enterprises, joint-stock companies, farms, associations (65 percents of the total amount of enterprises and organizations of Magadanskaya oblast). Founded in 1939, in 1954 Magadan became the regional centre.
In modern Magadan the highly developed industries are as follows: machine-building (manufacture and repair of mining equipment, fuel equipment, ship repair, etc.); metal-working enterprises; manufacture of building materials; the light (garment factory, leather-shoe factory, etc.) and food-processing industries; heat station.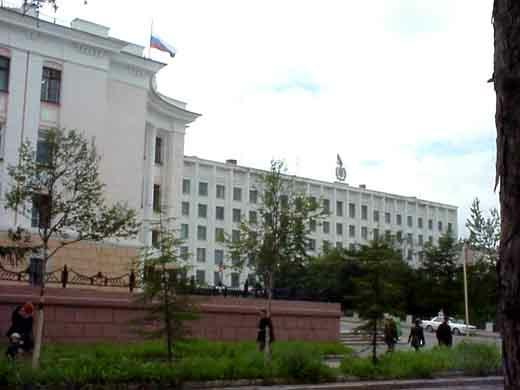 Here function the Northeast Complex Scientific and Research Institute of the Far East branch of the Russian Academy of Sciences, the Institute of Biological Problems of the North, Magadan Zonal Scientific and Research Institute of Agriculture of Northeast, International Research Centre "Arctic", branch of the Pacific Scientific and Research Institute of Fish Industry and Oceanography, Northern International University, branch of the Academy of Law, branch of the Moscow State University, the Polytechnic school, Medical college, School of Arts, 7 technical training colleges, 28 comprehensive schools, 3 licea, 4 grammar schools, 40 preschool institutions, 39 medical institutions, 6 centres of culture, 3 regional and 8 city libraries, several museums and cinemas.

Magadan is built on permafrost and in the seismic zone. It is built up with 5-7-storey houses
CITIES OF RUSSIA

Abakan I Aginskoye I Anadyr I Arkhangelsk I Astrakhan I Barnaul I Belgorod I Birobidzhan I Blagoveshensk I Bryansk I Cheboksary I Chelyabinsk I Cherkessk I Chita I Ekaterinburg I Elista I Gorno-Altaisk I Groznyi I Ioshkar-Ola I Irkutsk I Ivanovo I Izhevsk I Kaliningrad I Kaluga I Kazan I Kemerovo I Khabarovsk I Khanty-Mansiysk I Kirov I Kostroma I Krasnodar I Krasnoyarsk I Kudymkar I Kurgan I Kursk I Kyzyl I Lipetsk I Magadan I Maikop I Makhachkala I Moscow I Murmansk I Nalchik I Naryan-Mar I Nizhny Novgorod I Norilsk I Novgorod the Great I Novosibirsk I Omsk I Orenburg I Oryol I Penza I Perm I Petropavlovsk-Kamchatsky I Petrozavodsk I Pskov I Rostov the Great I Ryazan I Saint-Petersburg I Salekhard I Samara I Saransk I Saratov I Smolensk I Stavropol I Syktyvkar I Tambov I Tomsk I Tula I Tver I Tyumen I Ufa I Ulan-Ude I Ulyanovsk I Vladikavkaz I Vladimir I Vladivostok I Volgograd I Vologda I Voronezh I Yakutsk I Yaroslavl I Yuzhno-Sakhalinsk I