Ekaterinburg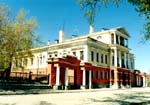 Ekaterinburg city (1990 est. pop. 1,370,000), capital of its region, Eeast European Russia, in the eastern foothills of the central Urals, on the Iset River. One of the largest cities of the Urals, it is an air and rail junction (a western terminus of the Trans-Siberian RR) and a leading industrial, scientific, and cultural center.
The town was founded in 1721 by Catherine the Great as a fort and metallurgical factory, its position having been chosen for its strategic proximity to the great mining operations of the Urals and Siberia. Although there are few tourist sites here other than the 18th-century cathedral, the city is nonetheless of great historical interest. It was here, in a house that once stood on Liebknecht Street, that Tsar Nicholas II and his family were executed on the morning of July 17, 1918. Although the house no longer exists, its site is marked by a plain wooden cross. The Imperial family, like most tourists, was brought to Ekaterinburg on the Trans- Siberian.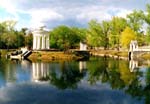 Ekaterinburg is among Russia's leading producers of turbines and ball bearings. Other industries include metallurgy, gem cutting, and the manufacture of chemicals, pharmaceuticals, and tires. Sverdlovsk began as a fort and metallurgical factory built in 1721 on the site of an earlier settlement. In 1723 the city was named Ekaterinburg in honor of Peter I's wife, who became Empress Catherine I. The first ironworks were established in 1726, and the city developed steadily as an administrative centre for the mining towns of the Urals and Siberia. Its importance was enhanced by the building of the Great Siberian Highway through the city in 1783, but even more so by the construction of the Trans-Siberian RR in the 19th cent. Czar Nicholas and his family were imprisoned and shot by the Bolsheviks at Ekaterinburg in 1918. The city was renamed in 1924 for the Communist leader Y. M. Sverdlov. The transfer of much Soviet industry from European USSR to the less vulnerable Urals during World War II further stimulated the growth of Sverdlovsk. With the dissolution of the Soviet Union, the city became Ekaterinburg.

The city's educational and cultural institutions include the Urals branch of the Russian Academy of Sciences, several mining schools, and a meteorological observatory.
CITIES OF RUSSIA

Abakan I Aginskoye I Anadyr I Arkhangelsk I Astrakhan I Barnaul I Belgorod I Birobidzhan I Blagoveshensk I Bryansk I Cheboksary I Chelyabinsk I Cherkessk I Chita I Ekaterinburg I Elista I Gorno-Altaisk I Groznyi I Ioshkar-Ola I Irkutsk I Ivanovo I Izhevsk I Kaliningrad I Kaluga I Kazan I Kemerovo I Khabarovsk I Khanty-Mansiysk I Kirov I Kostroma I Krasnodar I Krasnoyarsk I Kudymkar I Kurgan I Kursk I Kyzyl I Lipetsk I Magadan I Maikop I Makhachkala I Moscow I Murmansk I Nalchik I Naryan-Mar I Nizhny Novgorod I Norilsk I Novgorod the Great I Novosibirsk I Omsk I Orenburg I Oryol I Penza I Perm I Petropavlovsk-Kamchatsky I Petrozavodsk I Pskov I Rostov the Great I Ryazan I Saint-Petersburg I Salekhard I Samara I Saransk I Saratov I Smolensk I Stavropol I Syktyvkar I Tambov I Tomsk I Tula I Tver I Tyumen I Ufa I Ulan-Ude I Ulyanovsk I Vladikavkaz I Vladimir I Vladivostok I Volgograd I Vologda I Voronezh I Yakutsk I Yaroslavl I Yuzhno-Sakhalinsk I