Naryan-Mar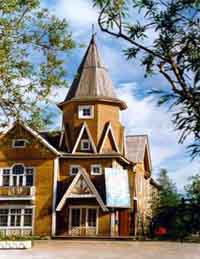 The city of Naryan-Mar, the capital of the Nenetsky Autonomous Okrug, lies 1097 kilometers to the northeast from Arkhangelsk. The city arose on the largest river of the region - the Pechora. The climate is subarctic and severe. The average temperatures of January vary from -12 up to -22 degrees centigrade, of July - 6-13 degrees above zero. Precipitations are about 350 mm per year.
In 1931 the city began with settlement Belosheliye, the future settlement of timber mill N 51, 'Komiles' and some other settlements, villages and farms - Nosovaya, Zakhrebetnaya, Kalyush, Sakhalin. On their spot appeared Naryan-Mar, meaning in the Nenets language 'Red City'.
The city is situated on right shore of the Pechora 110 km from the coast of the Barents Sea.
Naryan-Mar is the sea and administrative centre of Nenetsky Autonomous Okrug.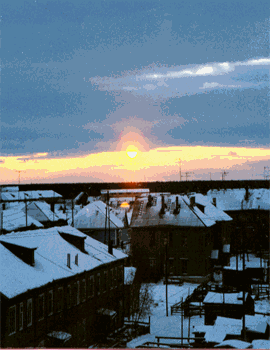 Polar Naryan-Mar is the location of district and city authorities, federal structures, representative offices of the regions of the Russian Federation and foreign companies. Naryan-Mar has a representative body called the City Council consisting of 12 deputies elected by the population of the city, and an executing agency - the city administration.

Head of Naryan-Mar, elected by deputies of the City Council for the period of 4 years, is simultaneously the chairman of the City Council and the chief of city administration.In 1978 the arms of the city of Naryan-Mar was approved. Its author was Semen Ivanovich Kotkin.

26,1 thousand people live and work in the city. There are 7 comprehensive schools, 12 preschool institutions, 5 libraries, 4 clubs, the Technical Training College, the Nenets Veterinary Technical School, the Pedagogical College named after I.P.Vyuchesky in Naryan-Mar. The oldest enterprise of the city is the Pechora timber mill, founded in 1903 by the company "Stella Polare" headed by the Norwegian timber merchant Martin Ulsen. Numerous timber carrying vessels from abroad come during the navigation period from May till October to the Naryan-Mar port for famous Pechora timber.
CITIES OF RUSSIA

Abakan I Aginskoye I Anadyr I Arkhangelsk I Astrakhan I Barnaul I Belgorod I Birobidzhan I Blagoveshensk I Bryansk I Cheboksary I Chelyabinsk I Cherkessk I Chita I Ekaterinburg I Elista I Gorno-Altaisk I Groznyi I Ioshkar-Ola I Irkutsk I Ivanovo I Izhevsk I Kaliningrad I Kaluga I Kazan I Kemerovo I Khabarovsk I Khanty-Mansiysk I Kirov I Kostroma I Krasnodar I Krasnoyarsk I Kudymkar I Kurgan I Kursk I Kyzyl I Lipetsk I Magadan I Maikop I Makhachkala I Moscow I Murmansk I Nalchik I Naryan-Mar I Nizhny Novgorod I Norilsk I Novgorod the Great I Novosibirsk I Omsk I Orenburg I Oryol I Penza I Perm I Petropavlovsk-Kamchatsky I Petrozavodsk I Pskov I Rostov the Great I Ryazan I Saint-Petersburg I Salekhard I Samara I Saransk I Saratov I Smolensk I Stavropol I Syktyvkar I Tambov I Tomsk I Tula I Tver I Tyumen I Ufa I Ulan-Ude I Ulyanovsk I Vladikavkaz I Vladimir I Vladivostok I Volgograd I Vologda I Voronezh I Yakutsk I Yaroslavl I Yuzhno-Sakhalinsk I