Lipetsk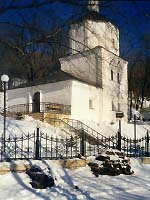 Lipetsk, the centre of Lipetskaya oblast, was founded in 1703. The city is situated at the distance of 508 kms from Moscow in the western part of the Oka-Don plain, on the banks of the river Voronezh. The climate is moderately continental. Winters are rather cold; average temperature of January is -10 degrees. Summers are warm; average temperature is +20 degrees centigrade. Precipitations are of about 500 mm a year, maximum in July.
In the year of 1703 by instructions of Peter I construction of ironworks was commenced on the river Lipovka (a tributary of the river Voronezh). In 1709 the settlement near these plants was named a village Lipetskiye Zavody. In 1779 the large village was reorganized into the district city of Lipetsk of the Tambov province. In 1803 thanks to local mineral springs with mineral water here appeared a resort which is considered to be one of the oldest in today's Russia.
In the beginning of XX century in the city worked two iron foundries, a distillery, some sugar factories, several candle, tanning and tobacco factories. Since 30s from a small provincial town Lipetsks has turned into the large industrial centre of Chernozem region.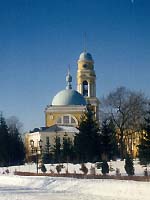 Lipetsk is the important railway station of the line Orel - Gryazi-Volgograd, it is also a unit of highways. According to the United state register of enterprises and organizations, the number of enterprises of all the branches on January 1, 1999 comes to 7628 and has increased in comparison with the same date of the previous year for 407 subjects (5.6 %).
The basic branches of the city economy and enterprises are: Metallurgy: ferrous metals, cast iron, steel, roll, steel pipes. (Novolipetsky metallurgical works, Lipetsk pipe plant, plant "Svobodny Sokol")
Machine-building: tractors, household refrigerators, metal-cutting machine tools, wood-working machines, centrifugal pumps, tractor cultivators. (Lipetsk tractor plant, Plant of refrigerators "Stinol", Lipetsk machine-tool plant).
The city population is more than 500 thousand inhabitants. The city is divided in districts. There are 4 districts in the city - Sovetsky, Oktyabrsky, Pravoberezhny and Levoberezhny.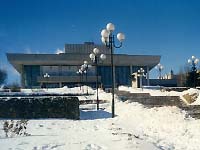 There are the Lipetsk Pedagogical and Polytechnical institutes, the faculty of the All-Russia Correspondence Economic Institute, a number of design institutes, including branches of some Moscow scientific and research institutes in the field of metallurgical and machine-building enterprises and equipment (branch of "Gipromez", "Stalproject", etc.)

There are the Drama Theatre, Puppet Theatre, Philarmonic society and the zoo in Lipetsk. Besides there are the Museum of Local Lore, the Museum of Forging and Moulding, G.V.Plekhanov Museum.

Everyone can improve health in the Lipetsk mud and balneological resort (founded in 1805).

Among archeologic monuments are the following settlements: Lipetsk Lake (3 thousand years B.C.), a settlement near the television tower (2 housand B.C.), Syrskoye gorodishe (1 thousand B.C.). From the Peter's I period here preserved the Verkhny Pond and Petrovsky spusk. In the centre of modern Lipetsk you can see an ensemble of monumental buildings: the Cathedral of Christmas (1791-1842), the House of Soviets (1957-58, architect N.V.Brovkin), hotel "Lipetsk". Monuments: three cast-iron ship cannons in the Nizhny park; the monument to Peter I (1839, master I.Fedorov); to members of the "Narodnaya Volya" (1879); the monument to the Soviet air force in honour of the pilots - fellow countrymen died during the Civil and Great Patriotic wars, the memorial of Eternal Glory devoted to the memory of victims of the Great Patriotic war of 1941-1945; to pioneers - heroes who have died in the wars, etc.
CITIES OF RUSSIA

Abakan I Aginskoye I Anadyr I Arkhangelsk I Astrakhan I Barnaul I Belgorod I Birobidzhan I Blagoveshensk I Bryansk I Cheboksary I Chelyabinsk I Cherkessk I Chita I Ekaterinburg I Elista I Gorno-Altaisk I Groznyi I Ioshkar-Ola I Irkutsk I Ivanovo I Izhevsk I Kaliningrad I Kaluga I Kazan I Kemerovo I Khabarovsk I Khanty-Mansiysk I Kirov I Kostroma I Krasnodar I Krasnoyarsk I Kudymkar I Kurgan I Kursk I Kyzyl I Lipetsk I Magadan I Maikop I Makhachkala I Moscow I Murmansk I Nalchik I Naryan-Mar I Nizhny Novgorod I Norilsk I Novgorod the Great I Novosibirsk I Omsk I Orenburg I Oryol I Penza I Perm I Petropavlovsk-Kamchatsky I Petrozavodsk I Pskov I Rostov the Great I Ryazan I Saint-Petersburg I Salekhard I Samara I Saransk I Saratov I Smolensk I Stavropol I Syktyvkar I Tambov I Tomsk I Tula I Tver I Tyumen I Ufa I Ulan-Ude I Ulyanovsk I Vladikavkaz I Vladimir I Vladivostok I Volgograd I Vologda I Voronezh I Yakutsk I Yaroslavl I Yuzhno-Sakhalinsk I