Cheboksary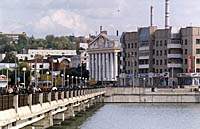 Cheboksary, the capital of Chuvashia, is situated on the river Volga between rivers Kubinka and Ural.
The distance to Moscow is 661 km, to Kazan - 181, Nizhny Novgorod - 247, Ulyanovsk - 244, Ioshkar-Ola - 93 km. The population is 473,9 thousand people. The airport is situated in the city boundaries. The city has 3 administrative districts. They are the Moscovsky, Leninsky and Kalininsky districts. Cheboksary is the city of centuries-old history. The city is mentioned in the annals of 1469 when Russian soldiers stayed here on their way to the Kazan Khanate. But as a settlement it existed much earlier. According to archeological excavations there was a Bulgarian-Chuvash settlement in the 13-14 centuries.
After the Chuvash Territory had voluntarily united the Russian State in July 1555 here was laid a fortress for protection of eastern boundaries of the country. In the end of the 17th - the beginning of the 18th centuries Cheboksary was considered to be a known trading city of the Volga region. In 1781 it became a country town of the Kazan province. In the beginning of the 19th century the population totaled 5500 inhabitants, and the industry amounted to a sawmill and several small plants only.
Cheboksary was a place for exile.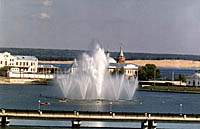 Chuvashia is the region poor of natural resources. According to Nikolay Fedorov, the first president of the Chuvash Republic, in this respect Chuvashia takes 89th position in the list of 89 regions of Russia. The basic resource of Republic is hop, its mental potential (a large amount of high-tech manufactures is concentrated in the city) and local brewers who became famous not only in Russia.

The following industries are developed in Cheboksary: the electronic, electrical engineer, relay-making, machine-building, textile and heavy machine-building industries. Besides there are the furniture and food industries, sphere of services and information.

The Cheboksary industry occupies leading positions in the sphere of industrial production of the Chuvash Republic. The city enterprises produce about 65 % of the industrial output of Chuvashia. This enterprises pertain to the machine-building, electronic and metal working industries (the tractor plant, machine-building, aggregative and hardware plants, "Chuvashkabel", the light and food-processing factories. Besides there is the manufacture of building materials and the hydroelectric power plant.)

The leading higher educational institutions of Cheboksary are the Chuvash State University, Agricultural Academy and Pedagogical Institute. There are a lot of branches of central higher educational institutions of Russia.

Today Cheboksary is the unique city the past and the present of which are equally interesting, where you can find unique museums and monuments, where the Russian and Chuvash cultures have been bound for centuries that today they just supplement one another.

The city is famous for its churches (25 churches and 4 monasteries), and the Cheboksary bells are known even in London and Paris.

The Cheboksary theatres are as follows: the Chuvash Academic Drama Theatre named after K.V.Ivanov, the Chuvash Musical and the Russian Drama Theatre, the Theatre of the young spectator, the Puppet theatre. Besides there are the Philarmonic society, the Art museum, the Museum of local lore.
CITIES OF RUSSIA

Abakan I Aginskoye I Anadyr I Arkhangelsk I Astrakhan I Barnaul I Belgorod I Birobidzhan I Blagoveshensk I Bryansk I Cheboksary I Chelyabinsk I Cherkessk I Chita I Ekaterinburg I Elista I Gorno-Altaisk I Groznyi I Ioshkar-Ola I Irkutsk I Ivanovo I Izhevsk I Kaliningrad I Kaluga I Kazan I Kemerovo I Khabarovsk I Khanty-Mansiysk I Kirov I Kostroma I Krasnodar I Krasnoyarsk I Kudymkar I Kurgan I Kursk I Kyzyl I Lipetsk I Magadan I Maikop I Makhachkala I Moscow I Murmansk I Nalchik I Naryan-Mar I Nizhny Novgorod I Norilsk I Novgorod the Great I Novosibirsk I Omsk I Orenburg I Oryol I Penza I Perm I Petropavlovsk-Kamchatsky I Petrozavodsk I Pskov I Rostov the Great I Ryazan I Saint-Petersburg I Salekhard I Samara I Saransk I Saratov I Smolensk I Stavropol I Syktyvkar I Tambov I Tomsk I Tula I Tver I Tyumen I Ufa I Ulan-Ude I Ulyanovsk I Vladikavkaz I Vladimir I Vladivostok I Volgograd I Vologda I Voronezh I Yakutsk I Yaroslavl I Yuzhno-Sakhalinsk I