Kyzyl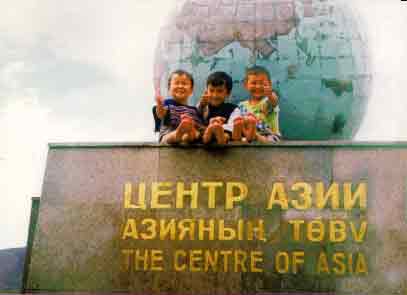 The city of Kyzyl, the capital of the Republic of Tyva, is situated in the east part of the Tuva hollow, at the junction of the rivers Big Yenisei and Small Yenisei that are the parts of Yenisei in 4668 kms to the east from Moscow. The climate is continental. Monthly average temperatures of January -28-35, of July +15-20 degrees centigrade. Precipitations are of 150-400 mm a year. The population - 90,3 thousand people. (1992).
Kyzyl is the geographical centre of Asia.
For that sake there is a three-edged obelisk based on a marble pedestal with the globe. On the obelisk there is a inscription in Tuvinian, Russian and English saying "The Centre of Asia".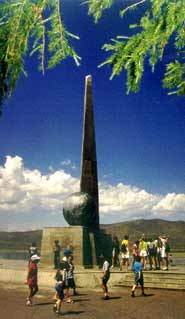 The obelisk was erected in 1964 to commemorate the 20th anniversary of voluntary entry of the Tuva National Republic into the USSR. The authors of the project are the sculptor V.F.Demin, architects V.I.Bazhin and V.P.Vetchinov.
In modern Kyzyl there are plants as follows: "Avtospetsoborudovaniye", mechanical, saw-mill, brewery, dairy plants; enterprises of building details, sewing and furniture factories.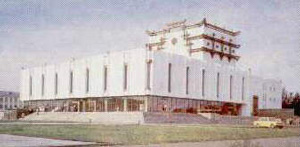 Kyzyl is the scientific and cultural centre of Tuva. There are the Pedagogical Institute, branches of Krasnoyarsk Agrarian University and Polytechnical Institute, the Tuva Scientific and Research Institute of Language, History of Language and Literature. Besides there are the branches of the Siberian branch of the Russian Academy of Sciences. The Musical and Drama theatre, philarmonic society, museum of local lore are also here.

In the centre of Kyzyl lies the architectural ensemble of Lenin Square with fountains. Here you can see the buildings of the musical and drama theatre, hotel "Mongulek", the House of artist, post office, cinema house "Naiyral". In the western part of the city is the recreation park named after N.F.Gastello, the monument to the soldiers - fellow countrymen died in the Great Patriotic War of 1941-45.
CITIES OF RUSSIA

Abakan I Aginskoye I Anadyr I Arkhangelsk I Astrakhan I Barnaul I Belgorod I Birobidzhan I Blagoveshensk I Bryansk I Cheboksary I Chelyabinsk I Cherkessk I Chita I Ekaterinburg I Elista I Gorno-Altaisk I Groznyi I Ioshkar-Ola I Irkutsk I Ivanovo I Izhevsk I Kaliningrad I Kaluga I Kazan I Kemerovo I Khabarovsk I Khanty-Mansiysk I Kirov I Kostroma I Krasnodar I Krasnoyarsk I Kudymkar I Kurgan I Kursk I Kyzyl I Lipetsk I Magadan I Maikop I Makhachkala I Moscow I Murmansk I Nalchik I Naryan-Mar I Nizhny Novgorod I Norilsk I Novgorod the Great I Novosibirsk I Omsk I Orenburg I Oryol I Penza I Perm I Petropavlovsk-Kamchatsky I Petrozavodsk I Pskov I Rostov the Great I Ryazan I Saint-Petersburg I Salekhard I Samara I Saransk I Saratov I Smolensk I Stavropol I Syktyvkar I Tambov I Tomsk I Tula I Tver I Tyumen I Ufa I Ulan-Ude I Ulyanovsk I Vladikavkaz I Vladimir I Vladivostok I Volgograd I Vologda I Voronezh I Yakutsk I Yaroslavl I Yuzhno-Sakhalinsk I