Groznyi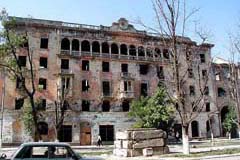 The capital city of the Chechen Republic, Groznyi, used to be a showcase example of modern architecture. Unfortunately, Groznyi suffered heavy damage during Russia - Chechnya Wars, and one has to resort to the past tense in an effort to describe that city... Let's hope that the reconstruction effort will make Grozny an even better city than it was.
Groznyi is about to turn 200. It was founded as a military outpost in 1818. Grozny numbered 6,080 residents in 1876. Its population has since grown to 430,000.
The capital of the Chechen Republic used to be a major industrial, cultural and research center of the North Caucasus. It had over 100 industrial enterprises in the late 50's. Since oil was extracted right in Grozny, there was an up-to-date oil refinery and a petrochemical plant in that city. There were plants of the light and food industries. And the city was a spa: it had hydropathic centres, with hydrogen sulphide and radon baths.
Groznyi got its first prefab buildings in the 60's of the 20th century. New clubs and a few stadiums opened at about the same time. The first 16-storey building of the North Caucasus was built on the main street of that city, in the 80's. The Chechen capital was, in the mid-80's, seen as the most beautiful city of that region. It had, by that time, turned into a city of impressive plazas, charming parks and wide thoroughfares. It had more than a thousand streets and by-streets.

The central, Leninsky, was the most populous of the four districts of Groznyi. It was flanked in the southwest by the spacious Zavodskoi district. The workers' townships and oil derricks of the Staropromyslovsky district stretched out to the west. The heavily industrialzed Oktyabrsky district lay southwest of the downtown area. Good tarmac roads linked the four districts. Public buses, trolleys and streetcars ran in Grozny.

With three public centres of higher learning - a university, an oil college and a teachers' training college, several private colleges, 9 vocational and 71 higher schools, a radio and TV station, one Chechen and one Russian-language drama theater, a puppet theater, a circus, a number of movie theaters, a concert hall, two museums, about 200 libraries and the Sadko swimming pool, Groznyi looked quite up to date.

Chechens are Sunni Muslims (following the Shafi'i maskhab -AD), who love their religion Islam and their homeland Chechnya. But Russian Federation or its predecessor Soviet Union could not make any room in their heart, because it was forcibly captured and after a series of bloody wars, it was annexed at the time of Czar in the last decade of the last century. This is why Russians and Chechens do not have any place in their hearts for each other. Hatred of Russians against Chechens is evident from the books taught to Russian children in schools. We can cite an example from a child syllabus book wherein there is a poem written by one Michael Larmontov, in which he has called them 'evil Chechens' who hover along the sea-side (for loot and plunder), and always keep their knives sharp.
CITIES OF RUSSIA

Abakan I Aginskoye I Anadyr I Arkhangelsk I Astrakhan I Barnaul I Belgorod I Birobidzhan I Blagoveshensk I Bryansk I Cheboksary I Chelyabinsk I Cherkessk I Chita I Ekaterinburg I Elista I Gorno-Altaisk I Groznyi I Ioshkar-Ola I Irkutsk I Ivanovo I Izhevsk I Kaliningrad I Kaluga I Kazan I Kemerovo I Khabarovsk I Khanty-Mansiysk I Kirov I Kostroma I Krasnodar I Krasnoyarsk I Kudymkar I Kurgan I Kursk I Kyzyl I Lipetsk I Magadan I Maikop I Makhachkala I Moscow I Murmansk I Nalchik I Naryan-Mar I Nizhny Novgorod I Norilsk I Novgorod the Great I Novosibirsk I Omsk I Orenburg I Oryol I Penza I Perm I Petropavlovsk-Kamchatsky I Petrozavodsk I Pskov I Rostov the Great I Ryazan I Saint-Petersburg I Salekhard I Samara I Saransk I Saratov I Smolensk I Stavropol I Syktyvkar I Tambov I Tomsk I Tula I Tver I Tyumen I Ufa I Ulan-Ude I Ulyanovsk I Vladikavkaz I Vladimir I Vladivostok I Volgograd I Vologda I Voronezh I Yakutsk I Yaroslavl I Yuzhno-Sakhalinsk I